Steven Barlow
Body Composition Specialist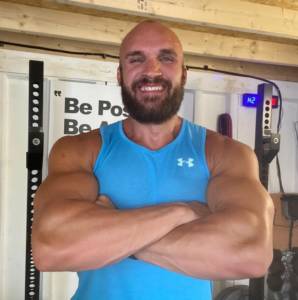 "Don't count the days; make the days count" — Muhammad Ali
My name is Ste and I am a fully qualified Personal Trainer and Nutritionist owning a private studio in the Wigan area. Over the years I have worked with hundreds of different clients, all with their own unique needs, achieving great results with them all. Let me lead you through a specialised training programme which will motivate you to succeed and will most importantly, give you the results you are looking for at great discounted prices.
My work history includes:
• Fat Loss Specialist
• Strength and Conditioning for professional and Amateur boxers, mma fighters and professional rugby league players
• Weight and Nutrition Management
• Boot Camp Instructor
• Endurance training
Whatever your goal, I will devise and motivate you through a personalised training plan that will take you to your goal and beyond!
I offer:
• 1-2-1 Sessions
• Small Group Sessions
• Family and Friends Sessions
• Functional Movement Screening
• Diet Plan – Body Fat Reduction
Fatloss specialist using results based training
Carried out over 10,000 sessions of Personal Training
Provided strength and conditioning coaching for amateur and professional boxers
Managed a team of Personal Trainers
Worked and trained with Brendon and Dominic Ingle, top coaches to the likes of Prince Naseem and Johnny Nelson
Weight Loss Expert
I am a fully qualified REPs Personal Trainer Level 4. I am also fully qualified in the following; Nutrition and Weight Management, Applied Nutrition, Core Stability and Torso Training, Boxing Coaching, Thump Boxing and Metabolic Typing.