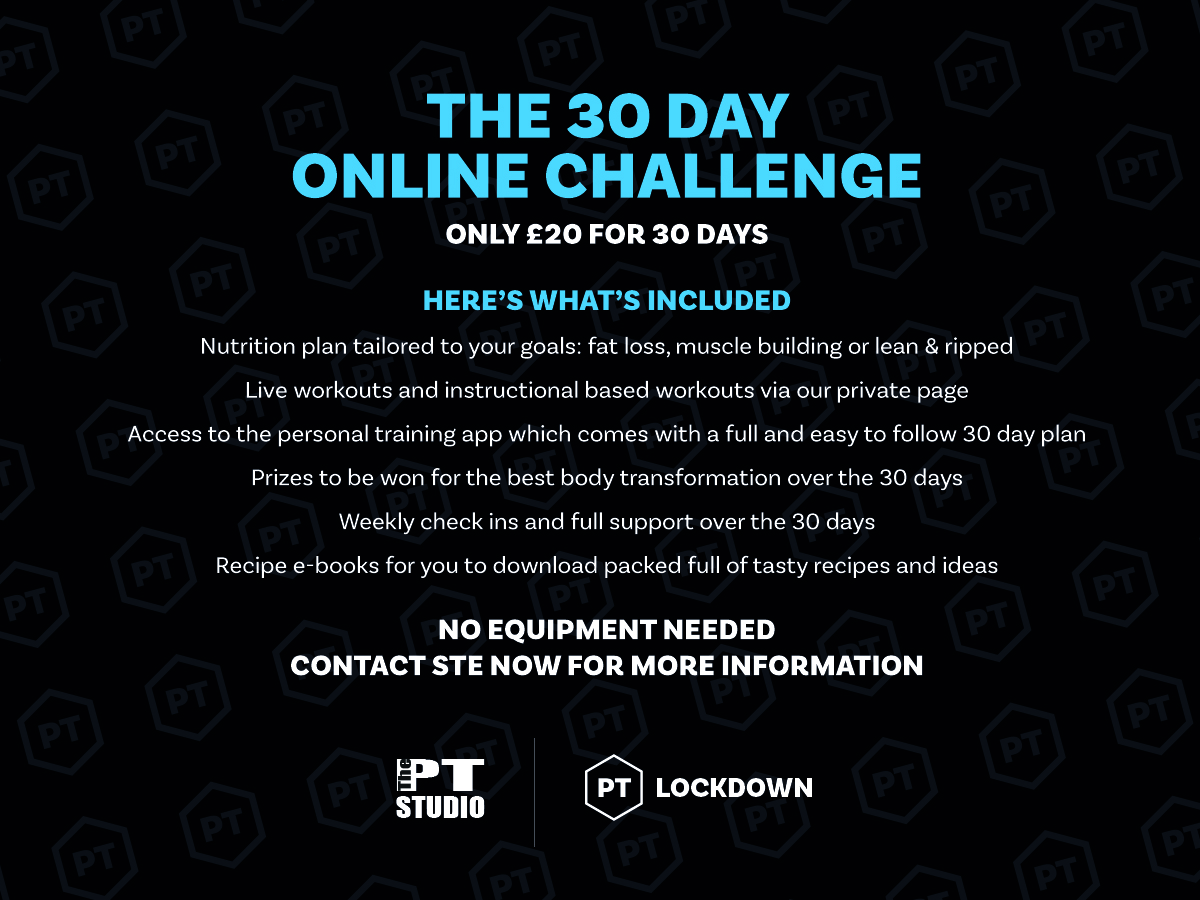 Stay fit ?Control your nutrition ?Loose Lbs
We are pleased to announce the details of our 30 Day Lifestyle Challenge.
Here at the Studio we have seen the most radical life changing transformations over the last 10 years + impacting not only on weight, clothes size but health markers of our clients. Let us support to you make those small steps that ultimately add up to major life changes.
We appreciate that many people were hoping that the gyms would re open soon, after overindulging at the thought of a cancelled holiday, or comfort eating during these uncertain and anxious times. We can support you to make changes and help to overcome these emotional issues.
---
What's included?
Nutrition plans / choice of plans suited to goals, fat loss, lean and ripped or muscle building. (Bespoke macro calculations also available *)
LIVE workouts and ON DEMAND instructor led workouts that can be done at any time via YOUTUBE PRIVATE CHANNEL or GROUP PAGE
Access to MyPT Hub, personal training app which hosts additional workouts, body stat tracking, recipe books, additional home workout guides, 1-1 messaging facility direct to your trainer and much more
PT ONLINE GROUP page access (community support forum)
Full 30 days training programme and lifestyle regime with NO EQUIPMENT required
Prizes for the best transformations submitted in categories. Inch loss / lean and ripped / Commitment Award
Weekly Check in and daily advice and support from dedicated personal trainers
85 Healthy Recipe Pack
Smoothie Pack
Vegetarian / Vegan meal planning
Mindset Guide
Daily Workout and Motivation Support
Advance bookings are now being taken.
To sign up is simple
£20 payment required in advance for the 30 days.
Payments sent via PayPal to ste@personaltrainerwigan.co.uk
or alternatively contact us to pay via bank transfer.
Paypal payments must be under friends and family/ someone you trust.

Email address will be required to set up My PT Hub app (please leave in notes to seller)
Avoid delay… sign up today ✅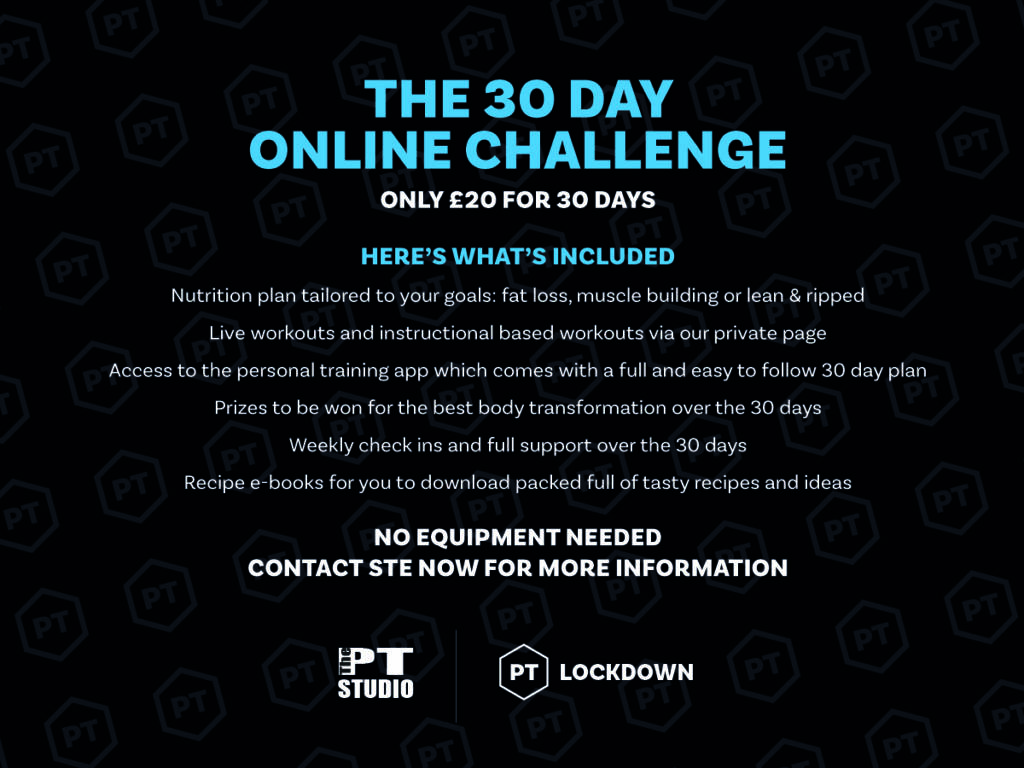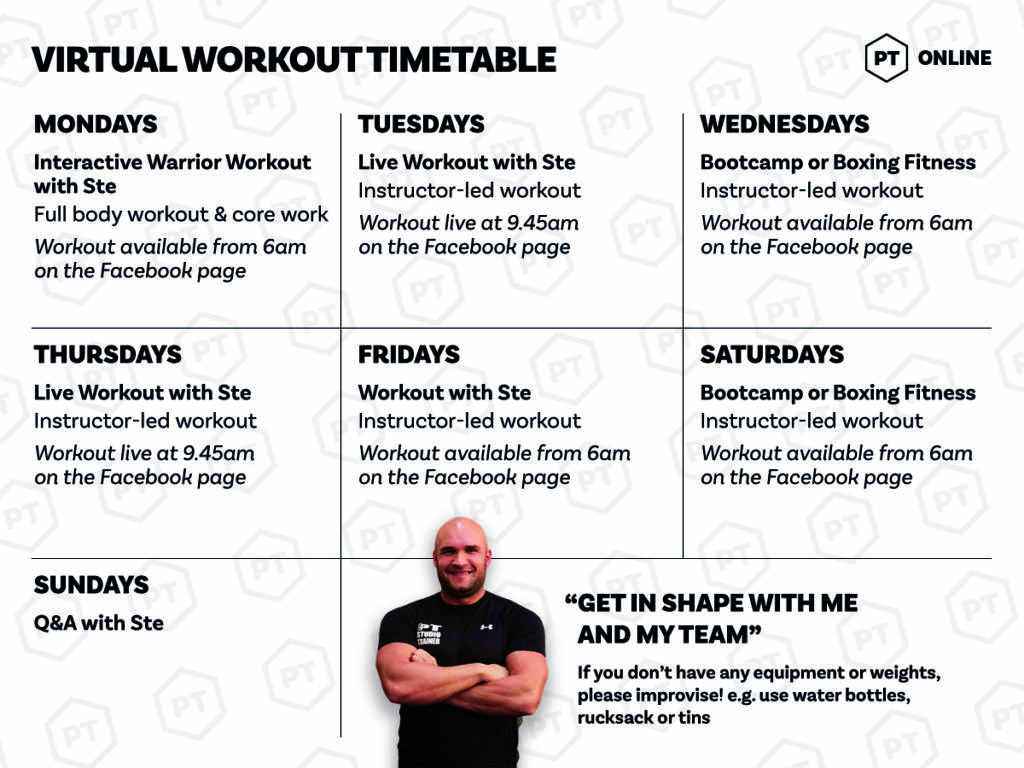 ---
Example live online workout videos
Daily videos of workouts are being posted on the Facebook group.
Get in touch to gain access.