The PTStudio and IronBarBelle have teamed up to bring you weekly blog articles to help with health and lifestyle choices. From healthy recipes, to hints and tips, check out this weeks article where we take a look at female fat loss and in particular relating to hips, thighs and bum's. Click here to read more.Oestrogen Supps Article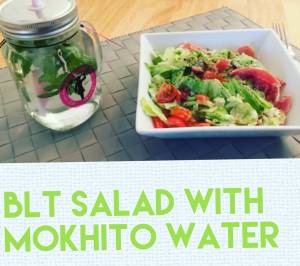 BLT Salad with Mokito Mint Cooler
Here is a really quick and simple lunch idea for those summer nights at home. Not only is is macro friendly being low carb but the Mokito Mint water also comes with some added health benefits too. Check out this weeks article from ThePTStudio and IronBarBelle for more information.
Ingredients: chopped lettuce, tomato, bacon and a scoop of low fat soft cheese.
How To: mix together the BLT and some low fat soft cheese in one bowl! Serve and enjoy!! No Carb lunch!
For Mokito Mint Cooler simply throw in some ice, mint, lime and some sparkling water for a refreshing summer cooler. Don't forget there will be no hidden nasties in this little gem if you pick up one of the IronBarBelle Mason jars from the studio. This weeks article talks about BPA found in lots of plastic bottles, by drinking from these glass jars you can help limit your exposure to chemical oestrogen.